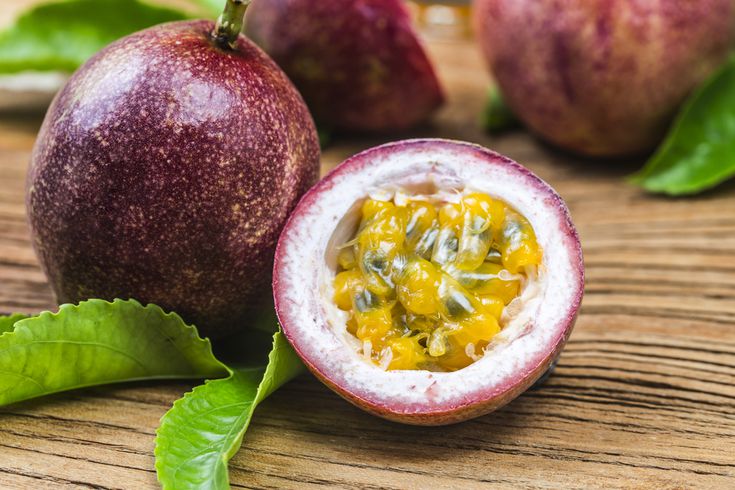 Passion Fruit - Fruit Plants & Vine Plants
Save

17

%
Save

17

%
Original price
Rs. 770.00
Original price
Rs. 770.00
-
Original price
Rs. 770.00
Original price
Rs. 770.00
Passion fruit is botanically known as Passiflora edulis, which is a vine species from the Passionflower family. It is cultivated commercially in a tropical and subtropical climate. It is mainly grown for its sweet, seedy fruit. The fruit is a type of berry round to oval, either yellow or dark purple at maturity, with a soft to firm, juicy interior filled with numerous seeds. The fruit is both eaten and juiced, the juice is often added to other fruit juices to enhance the aroma.
It is a perennial vigorous climbing vine, usually, the vine produces a single flower. The fruit produced is entirely fleshy, and is spherical to ovoid. The outside color of the berry ranges from dark purple with fine white specks to light yellow. Within the fruit, there are typically 250 black seeds, each 2.4 mm in length, each seed is surrounded by a membranous sac filled with pulpy juice. The flavor of the juice is slightly acidic and musky. The passion fruit's flavor can be compared to the guava fruit.
MAXIMUM HEIGHT - Its growth is unlimited but normally grows between 8 - 12 meter height.
BLOOMING YEAR - It blooms mainly in May - June, and September - October. 
FRUITING YEAR - It starts fruiting after 1.5-2.5 years after planting.
GROWING TIPS -
It can grow almost in all types of soil, but the soil should be well-drained, fertile, and organic in nature.
For fast growth, it needs support, the more support it will grow very quickly, as it is a fast-growing plant.
It can grow either in full sunlight or partial sunlight(3-4hours) is also okay to grow.
It can be planted in the medium to large size pot, but for more spreading, preferred to plant directly in the soil. 
INSIDE THE BOX
| | | |
| --- | --- | --- |
| S.No. | PRODUCT NAME | DIMENSION |
| 1. | Passion Fruit Plant | 1 Feet Height |
| 2. | Growing Pot (Black color) |  6 Inch |

*above specifications are for indicative purposes only, actual dimensions may slightly vary.
PLANT CARE  
LIGHT CONDITION - It requires a minimum of more than 4 hours of Direct Sunlight. It can also grow in semi-shade areas. (minimum 3hours of sunlight) 
WATERING SCHEDULE - Water when the topsoil(2-3 inches) feels dry to touch. Always maintain moisture near the root zone.
SOIL TYPE - The soil should be well-drained, fertile & rich in organic content.
FERTILIZER APPLICATION - Apply any organic fertilizer once a month for better health of the plant, apply water immediately after fertilizer application.
PLANT PROTECTION - Do regular pruning of the plant in order to maintain good required shape. Remove dead, infected, or damaged plant parts and discard them away from the plants. Generally, it is not affected by any pest & disease in case of any insect attack or disease, you can use Neem oil, Eucalyptus oil, or Citrus oil spray for primary treatment.
INITIAL CARE FOR 10-15 DAYS JUST AFTER RECEIVING YOUR PLANT 
Remove the Packaging Materials carefully.

Press the soil in the pot & add additional soil(garden mix) if necessary.

Maintain moisture in the pot, Do not overwater it may kill your plant, so make sure that the soil should be dry between watering.

Provide support with stick/moss stick(vine plant) in order to make straight growth, for needed plant only.

Make sure that plants get enough morning direct bright light for 10-15 days & do not go for immediate transplanting(minimum 1 month)

Just prune if any branch of the plant is get damaged in transit.