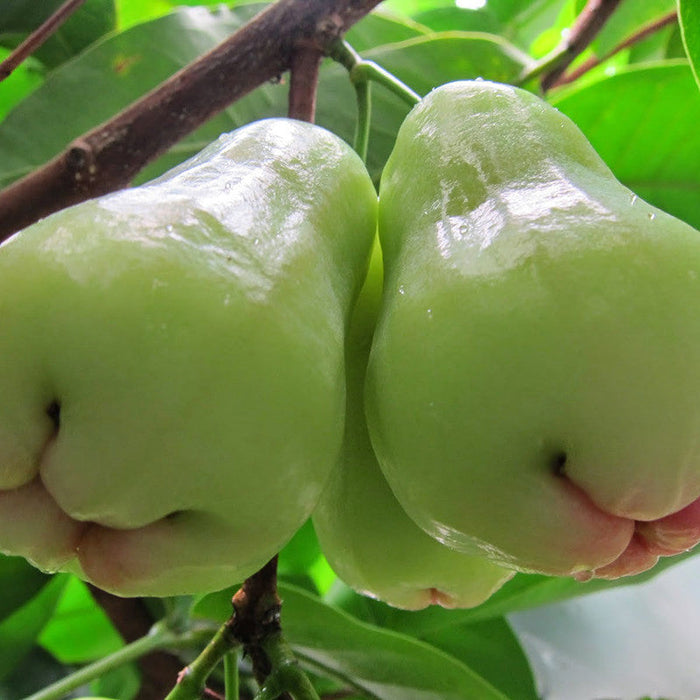 Water Apple Hybrid White- Fruit Plants & Tree
Save

20

%
Save

20

%
Original price
Rs. 740.00
Original price
Rs. 740.00
-
Original price
Rs. 740.00
Original price
Rs. 740.00
Water Apple Botanically known as Syzygium samarangense from Myrtaceae family. It is not actually an apple. It is a tropical fruit that grows in south-east Asia, including southern India, Indonesia and Malaysia. It is a medium size tree, can grow more than 8 meter in height if planted in ground. It is an evergreen plant with broad leaves.
The flowers are white to yellowish-white, with four petals and numerous stamens. The resulting fruit is a bell-shaped, edible berry with colors ranging from white, pale green, or green to red, purple, or crimson, to deep purple or even black. The fruit grows 4–6 centimetres long and has 4 fleshy calyx lobes at the tip. The skin is thin, and the flesh is white and spongy and fruits appear on nearly any point on the surface of the trunk and branches. When mature, the tree is considered a heavy bearer.
It does not taste like an apple, and it has neither the fragrance nor the density of an apple. It is comparable to the taste of a watermelon. Unlike either apple or watermelon, the wax apple's flesh has a very loose weave. The very middle holds a seed situated in a sort of cotton-candy-like mesh. This mesh is edible, but flavorless.
Difference between Malay apple and Water apple 
Malay apple fruit are bigger in size and have medium size seeds in it and it takes 4-5 yrs of time to start fruiting and size of tree is tall whereas water apple is medium in size with lots of fruit and they are almost seedless(small seeds).
Growing Tips
It grows in well drained and slightly acidic soils and do not like waterlogged conditions.

Need full sunlight to grow(minimum 5-6 hrs)

It grows in tropical areas wherever temperature is about is below 35℃.
You can prune it's branches if found any diseased part and also to maintain your requires shape. Do pruning after winter season and never do pruning in rainy season.
Add organic fertilizer after pruning.
Addition of organic mulch surround the plant will be additional benefits to conserve moisture near the root zone.
TEMPERATURE - Between 15°-35°C with optimum of 30°C.

MAXIMUM HEIGHT - It can reach upto 8 meter (if planted in ground)
BLOOMING TIME - Flowering from March to April and fruits occurs from May-July and we can see second crop in November and December also.

FRUITING TIME - It starts fruiting after 3-4 years after planting.
Fertilizer - Organic Fertilizer once in 4 month.
INSIDE THE BOX
| | | |
| --- | --- | --- |
| S.No. | PRODUCT NAME | DIMENSION |
| 1. | Water apple Plant | 1-2 Feet Height |
| 2. | Growing Pot (Black color) | 6 Inch |
**above specifications are for indicative purpose only, actual dimensions may slightly vary.
INITIAL CARE FOR 10-15 DAYS JUST AFTER RECEIVING YOUR PLANT 
Remove the Packaging Materials carefully.

Press the soil in the pot & add additional soil(garden mix) if necessary.

Maintain moisture in the pot, Do not over water it may kill your plant, so make sure that the soil should be dry between watering.

Make sure that plants get enough morning direct bright light(2-3hrs) for 10-15 days & do not go for immediate transplanting (minimum 1 month)

After 1 month you can transplant it into slightly bigger pot than the present pot or directly in the ground.

Just prune if any branch of the plant is get damaged in transits. New leaves will come definitely.