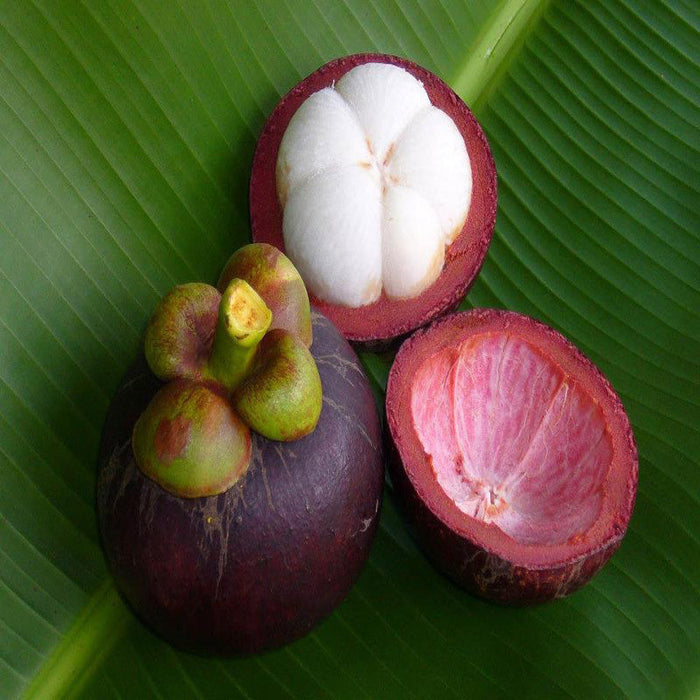 Mangosteen / Garcinia mangostana - Fruit Plants & Tree
Save

20

%
Save

20

%
Original price
Rs. 1,300.00
Original price
Rs. 1,300.00
-
Original price
Rs. 1,300.00
Original price
Rs. 1,300.00
Current price
Rs. 1,040.00
Rs. 1,040.00
-
Rs. 1,040.00
Current price
Rs. 1,040.00
About the Fruit - 
Mangosteen is a tropical evergreen fruit plant.
It is highly valued for its juicy, delicate texture and slightly astringent flavor and is commonly eaten fresh, canned, or dried.
The fruits are low in calories and high in antioxidants, vitamins, and minerals and also have lots of essential nutrients, but no saturated fats or cholesterol.
Maximum Height - It is a slow-growing plant that can reach up to 6-8 meters in height & spread.
Blooming Time - In India, there are 2 different blooming seasons Monsoon (July - October) and April - June. 
Fruiting Time - It starts fruiting after 5-6 years of planting. 
Growing Tips -
It needs full sunlight but needs to protect the young plant from harsh sunlight for 2-3 years. 
It loves to grow in tropical climates with high humidity and an average temperature range between 20- 35° C.
The fruit can do well in average rainfall, but long droughts can affect the productivity of the fruit.
A sandy loam, fertile soil with a good amount of Organic matter, is ideal for growing Mangosteens.
They don't like waterlogged conditions.  
INSIDE THE BOX
| | | |
| --- | --- | --- |
| S.No. | PRODUCT NAME | DIMENSION |
| 1. | Mangosteen Plant | 1-2 Feet Height |
| 2. | Growing Pot (Black color) | 6 Inch |
**above specifications are for indicative purpose only, actual dimensions may slightly vary.
INITIAL CARE FOR 10-15 DAYS JUST AFTER RECEIVING YOUR PLANT 
Remove the Packaging Materials carefully.

Press the soil in the pot & add additional soil(garden mix) if necessary.

Maintain moisture in the pot, Do not overwater it may kill your plant, so make sure that the soil should be dry between watering.

Make sure that plants get enough morning direct bright light(2-3hrs) for 10-15 days & do not go for immediate transplanting (minimum 1 month)

After 1 month you can transplant it directly into the ground.

Just prune if any branch of the plant is get damaged in transits. New leaves will come definitely.