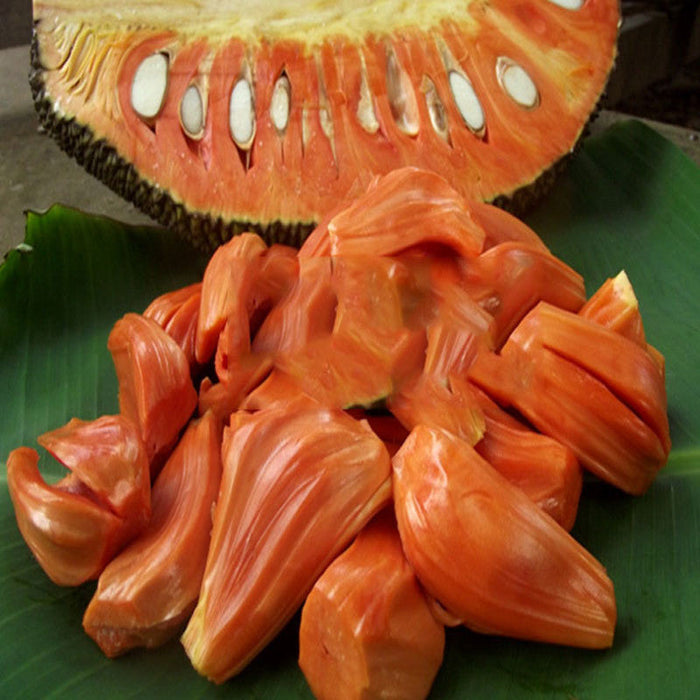 Jack Fruit Red/Red panasa (Grafted)- Fruit Plants
Save

11

%
Save

11

%
Original price
Rs. 750.00
Original price
Rs. 750.00
-
Original price
Rs. 750.00
Original price
Rs. 750.00
The specialty of Red Jackfruit

It is one of the unique & rarest varieties of Jackfruit, which is getting popular nowadays.

Their flesh color shade between yellowish red to dark red and have a very high nutrient which is the reason for their naming.

We can use both of their creamy flesh and the seeds to make dishes.

Red Jack fruit contains all the qualities of common jackfruit with a high content of nutrients
Jack fruit is a handsome tropical tree, with evergreen, alternate, glossy and leathery leaves. The largest tree-borne fruit in the world, jackfruit (Artocarpus heterophyllus) is grown on a species of tree in the mulberry family. There are two varieties of jack fruits: one that is small, fibrous, soft, and mushy, and the carpels are sweet, with a texture like that of a raw oyster. The other variety is crisp and crunchy, but not very sweet. Apart from these some other varieties like grafted variety, one more variety which is the raw variety used in culinary purposes. All parts of the plant have medicinal properties.
Care Tips
1. Jackfruit is very easy to take care of as that of normal Jakfruit.
2. Just we have to make ensure that plant should be planted in full sunlight areas(minimum 6hrs of sunlight)
3. It is not recommended to grow in a pot, because the plant has a strong root system, which needs much space to grow.
4. Jackfruit loves to grow in tropical & subtropical climates, where there is hot summer & cool winter.
5. You can plant it in well fertile soil with organic matter as mulching for initial 2 years.
6. The Plant will take 3.5-4 years of time to start productive fruiting.
7. If your plants have earlier flower before 4 years, remove it, so that plant can well develop physically.
INSIDE THE BOX
S.No.
PRODUCT NAME
DIMENSION
1.

Red Jackfruit 

Plant
1-2 Feet Height
2.
Growing Pot (Black color)
6 Inch
**above specifications are for indicative purpose only, actual dimensions may slightly vary.
INITIAL CARE FOR 10-15 DAYS JUST AFTER RECEIVING YOUR PLANT 
Remove the Packaging Materials carefully.

Press the soil in the pot & add additional soil(garden mix) if necessary.

Maintain moisture in the pot, Do not overwater it may kill your plant, so make sure that the soil should be dry between watering.

Make sure that plants get enough morning direct bright light(2-3hrs) for 10-15 days & do not go for immediate transplanting (minimum 1 month)

After 1 month you can transplant it into a slightly bigger pot than the present pot or directly in the ground.

Just prune if any branch of the plant is get damaged in transits. New leaves will come definitely.